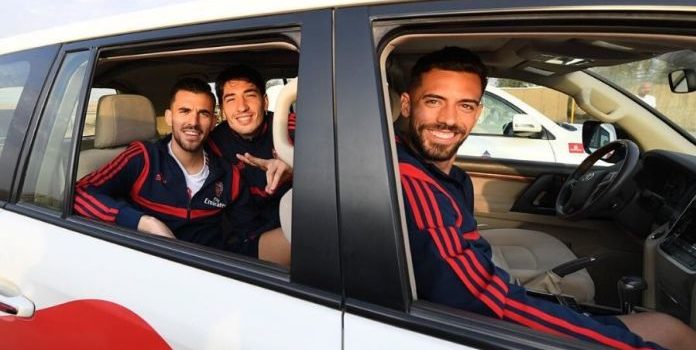 View this post on Instagram
It was priceless to see an Arsenal squad enjoying and diving in the unique cultural experience of Dubai desert safari. At the end of their winter training, they continued by getting the amazing enjoyment in the desert with the courtesy of Arabian adventures and Emirates. This was their final day of winter break so they decided to enjoy the warm-weather training camp in the Dunes of Dubai. After that, they are heading towards England before that desert provided them all the warmth. Players went to the dunes in 4x4s and then spotted riding a camel.
Getting Catered With Arab Hospitality
Mikel Arteta is providing hospitality to the Arsenal for four days in the United Arab Emirates. They were pretty impressed with the conditions they have got for the training and posted about their mini pre-season. These players wish to stay united wherever they go as a team and did not lack to showcase their bond in the desert safari as well. They were totally in awe of safari experience in the desert, Arab Cuisine, and traditional shows as well as performances.
Great Pictures And Hilarious Captions
Even, Emerick Aubameyang and Alexandre Lacazette posted their picture of barding a camel with a caption- "Juts two Goats and a camel'. Seriously, it was a funny caption describing their second part of the adventure. There were more pictures, which were captioned as- " An amazing night of team building and cultural experienced!" Still, they declared in an interview that they were here to work, it is not a holiday. After all, it is the last day of the training and after such sessions, everyone requires some fun.
View this post on Instagram
Hector Bellerin Revealed Gains Of The Trip
Over the training pitch, players got all the practice sessions and otherwise, they enjoyed this time in the UAE. He also mentioned about the availability of various games to keep them recharged and have a great team bonding. Positivity and happiness are two key aspects, the Bellerin talked about while sharing experiences of being in the UAE. And, also considered this time as an opportunity to be together with your fellow workers and players. He thanked the Emirates for such amazing arrangements and amenities for them all. Also, mentioned how great were the arrangements when he came last time and was going through rehab. He felt better at that time and according to him, it is great to train in such favorable weather of the United Arab Emirates. "Even though it was not at all a holiday but they made us enjoy our time", he added.