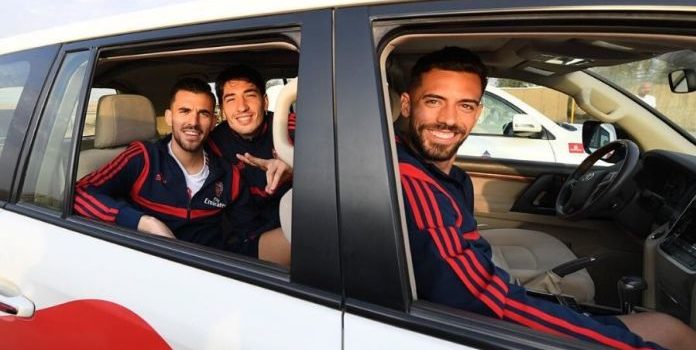 View this post on Instagram
It was priceless to see an Arsenal squad enjoying and diving in the unique cultural experience of Dubai desert safari. At the end of their winter training, they continued by getting the amazing enjoyment in the desert with the courtesy of Arabian adventures and Emirates. This was their final day of winter break so they decided to enjoy the warm-weather training camp in the Dunes of Dubai. After that, they are heading towards England before that desert provided them all the warmth. Players went to the dunes in 4x4s and then spotted riding a camel.
Getting Catered With Arab Hospitality
Mikel Arteta is providing hospitality to the Arsenal for four days in the United Arab Emirates. They were pretty impressed with the conditions they have got for the training and posted about their mini pre-season. These players wish to stay united wherever they go as a team and did not lack to showcase their bond in the desert safari as well. They were totally in awe of safari experience in the desert, Arab Cuisine, and traditional shows as well as performances.
Great Pictures And Hilarious Captions
Even, Emerick Aubameyang and Alexandre Lacazette posted their picture of barding a camel with a caption- "Juts two Goats and a camel'. Seriously, it was a funny caption describing their second part of the adventure. There were more pictures, which were captioned as- " An amazing night of team building and cultural experienced!" Still, they declared in an interview that they were here to work, it is not a holiday. After all, it is the last day of the training and after such sessions, everyone requires some fun.
View this post on Instagram
Hector Bellerin Revealed Gains Of The Trip
Over the training pitch, players got all the practice sessions and otherwise, they enjoyed this time in the UAE. He also mentioned about the availability of various games to keep them recharged and have a great team bonding. Positivity and happiness are two key aspects, the Bellerin talked about while sharing experiences of being in the UAE. And, also considered this time as an opportunity to be together with your fellow workers and players. He thanked the Emirates for such amazing arrangements and amenities for them all. Also, mentioned how great were the arrangements when he came last time and was going through rehab. He felt better at that time and according to him, it is great to train in such favorable weather of the United Arab Emirates. "Even though it was not at all a holiday but they made us enjoy our time", he added.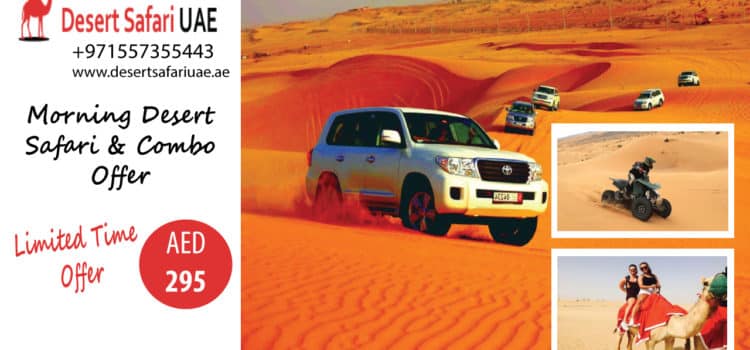 We have mentioned our 10 Best customized Desert Safari Packages Dubai for every traveler who wants to experience tour Dubai in the best possible way.
The cool morning temperatures and the first ray of the sun on the Dubai deserts make a Morning Safari in this city a glorious encounter. This is among those desert safari visits in Dubai which have an invigorating and exciting knowledge as it starts exactly at the break of first light.
This safari shall surely register as one of the most beautiful snapshots of your life owing to the desert's morning beauty combined with exciting activities! You can likewise ski on the sand, go sandboarding or even go on a dune bashing ride during a morning desert safari.
2. Desert Safari with BBQ Dinner
Desert safari Dubai come in different combinations of unique activities and experiences you can go for while in Dubai. Desert safari with barbeque dinner is particularly famous among tourists. If you find yourself free one evening and wish to do something remarkably exciting, go for a desert safari with barbeque dinner in the best hotels in Dubai. This safari with BBQ supper in Dubai will be the best desert safari bargain one would ever get.
Conducted right in the middle of the night, the overnight desert safari opens options and the clear skies for a wondrous stargazing opportunity. Since the nights are cooler and completed with flowing breeze, it makes the aura a bit more romantic and also adventurous to ride on the dunes late into the night.
Standing in the middle of this Arabian Desert is a relaxing experience because this gorgeous land is a nirvana of peace and tranquillity during the late-night hours.
Desert Safari Dubai is one of the most popular extreme sports in Dubai, as you set off on an enthralling four-wheel drive in the beckoning desert of Dubai, you will find yourself gliding at a good clip. The action-adventure play of 45 minutes can bring your heart in your mouth as the Hummer bashes the dunes.
5. Hot Air Balloon Desert Safari
An early morning ride on the Hot Air Balloon imparts an uninterrupted view of the sunrise that blazons the dunes. Out of the many desert safari tours in Dubai, a hot air balloon ride is the only one that takes a flight and gives you a bird's eye view of the rustic beauty.
The 60-minute long aerial safari accommodates about 24 people at a time. A professional pilot operates the balloon in the desert while a guide recites stories about Dubai's past and present.
On this amazing hot air balloon safari, you can also choose overnight safari with the sunrise Hot Air Balloon Ride and a gourmet breakfast. Each of these safaris is worked by Dubai's best abandon safari organization, Platinum Heritage.
6. 4×4 Desert Safari
Dubai City is a treat to all your senses and the must do things in Dubai are innumerable. A trip to Dubai is incomplete without a desert safari experience. The safari is not just about the adventures ride on the sand dunes, there is so much more to it.
The entire experience lasts up to 5 to 6 hours. Stops between the dunes will be made, where you can get some great photographs taken!
7. Evening Desert Safari
An evening desert safari is everything that you need to get up close with Dubai and its best. The view of the sunset behind the tall dunes is enchanting with you in the middle of nowhere watching the night set in.
It makes a beautiful backdrop for photography which you can combine with some evening shows like BBQ dinner or other cultural programs. Dune bashing and a hot air balloon ride in the desert to watch the sunset are the most fun things to do when you go for an evening desert safari tour in Dubai.
The oldest mode of exploring the vastness of any desert in the world is by taking a seat on the back of a Camel. A Camel can go places where the motor-vehicles may not navigate. You are also taken to the Camel Farm on the sightseeing tour in Dubai and later to the camp where you can try activities like Quad biking and sand-skiing etc.
9. Private Night Safari and Star Gazing
Wheel through the sand dunes with desert safari as the night rises and the sun goes down, explore the nightlife in Dubai. This private safari in a 4×4 vehicle will let you enthrall the ups and downs of sands and sends thrill within the heart. As you sit back on the seats, click pictures of not just yourself but also the millions of stars waiting to be looked at overhead. Stop at a location in between and delve into the starry night, be with your family or bae.
10. Helicopter Flight and Desert Camp Experience by 4×4
Combine a helicopter flight over Dubai with an action-packed desert adventure in one day on this memorable combo experience. Board a state-of-the-art helicopter and soar over top Dubai attractions such as The Palm, Burj Khalifa, and The World archipelago during an exhilarating scenic flight. In the afternoon, ride a 4×4 to a desert camp and experience a host of evening desert activities, including a dune drive, camel ride, henna tattoo session, and more.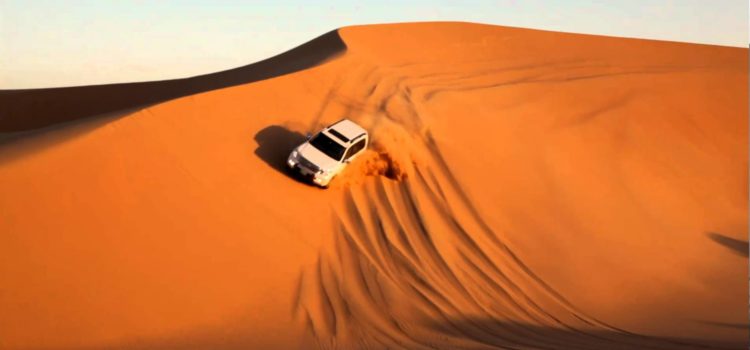 The desert around Dubai demands over a passing look.
The desert around Dubai demands over a passing look. It's an area of beauty that showcases the UAE's Arabian heritage. This desert safari Dubai expedition does it justice with many touches not offered on customary tours, together with a life desert safari Dubai by vintage Land Rover, falconry show, bread- and coffee-making demos, and a 4-course, desert-camp dinner inside a royalty-owned retreat, desert safari Dubai through the fascinating desert life. At a scheduled time, you'll be picked up by the desert safari Dubai Captain, WHO can take you to 60-minutes drive to the desert safari Dubai in an exceedingly 4 wheeled vehicle. Find out how Dubai originated from its humble beginnings and its stylish innovations while you ride.
Your 1st stop within the Desert Safari Dubai is going to be a rest area. Take a 25-minute break before your safari begins. Rest, and make the most of the offered toilet facilities, whereas your vehicle readies for safari by adjusting tyre pressures. If you're game, take a facultative Quad Bike ride while different convoys catch up.
The adventures begins, 40-minutes sand dune bashing ride deep in the desert safari Dubai that's legendary for its peculiar red dunes. Attempt sand boarding (surfing over the dunes) for an additional thrill before going to desert safari Dubai Camp. Reach at Desert safari Dubai Camp. You'll witness a gaggle of Camels for a desert ride. Getting into the camp, the safari Captain can point out all the activity slots within the camp, and lead you to your table ahead of a Khayma (tent). This desert safari Dubai camp can have unlimited soft drinks provide and Kandora and abaya , the Arabian clothes for men and ladies. Be welcome with Qahwa (Arabic coffee), Gaymat (sweets) and dates.
At the desert safari Dubai camp you may be ready to experience a short camel ride, try the standard henna hand decoration of the East, and revel in a show consisting of traditional dance, belly dance, and superb Tanoura dance. Different activities at the desert safari Dubai camp include quad biking, hookah, a sand art show, Arabic low, falcon photography, and a carpet stall. Once the activities are over, you will be taken back to your location of selection.
Feel Fresh Before Moving on to Your Next Adventure Activity:
A camel ride in desert safari Dubai once back, capture the scene's beauty in your cameras & videos, get pleasure from your free time at the desert safari Dubai Camp by attempting the Arabian specialties Henna painting, Arabic makeover with the given Kandora and abaya. Meet the Falcon professional and pose with the royal bird.
The evening entertainments in desert safari Dubai begin with Tanoura dance show within the center stage. You may then be notified once the buffet barbecue begins. After the dinner, enjoy the local desserts, watch the belly dance, and relax. As a final treat, the camp is utterly transitioned, giving the standard ambience of a desert safari Dubai night. Relax and meditate as you watch the stars, before finally being come back to your accommodation.
Contact desertsafariuae.ae for the best desert safari Dubai packages for travelers out there.