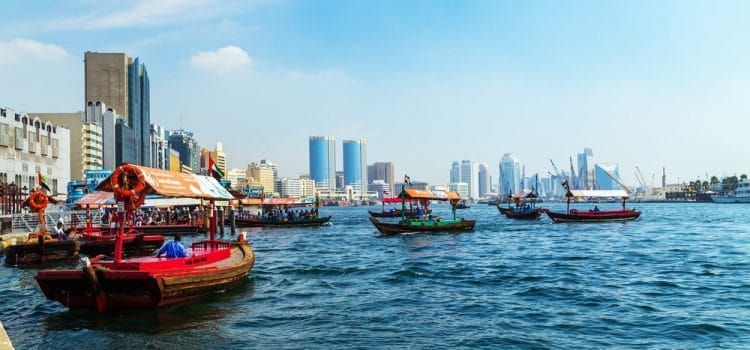 If you think that Dubai Creek is just another saltwater creek that runs through the middle of the city. Then you are missing out on a picturesque scenery, filled with a mystical aura that can't be anymore Arabian. Dubai is filled with natural and man-made marvels that will take your breath away. Yet, people categorize about Dubai Creek as a must-watch.
So how did the Dubai Creek come about?
Dubai has always been a major port city in the UAE, and it was due to the Dubai Creek. The creek existed before the birth of Christ. A safe harbor to ships trading in the Arabian Gulf. Then in the 1950s, the creek split through the ground, creating a small canal.
This gave HH Sheikh Rashid bin Saeed Al Maktoum, Dubai's then ruler, an idea of expanding the creek. The small canal was dug up, and a 4,000-foot-long and six feet deep canal was excavated. After further construction, Dubai Creek was born in downtown Dubai.
Now let's look at some of the things that you could do at the Dubai Creek –
AI Fahidi Fort: If history interests you or you want to feel what it was like living in the 18th century in Dubai. Then you should visit this 1787-built fort which is housed inside Dubai Museum. The fort is one of the oldest existing forts in the region.
Cable Car: If you don't want to travel in the boat or want a better scenic view of the creek, then suspend yourself in a cable car that is 30 meters in the air. The entire 2.3km length of Dubai Creek Park is covered in just 30 minutes.
Cruise-de-Creek: This is no ordinary cruise as the slow boat lets the traditional surrounding grow on you, and steadily you fell in love with the Arabian charm. You can enjoy this experience by hiring aa water taxi, wooden dhow, or cruise down the Dubai Creek. The cruise is better enjoyed in the night.
Dubai Dolphinarium: This is a live, action-packed dolphin show you have ever seen. After watching the show, you will understand why dolphins are so intelligent. The show allows you to get close to these friendly mammals and even click a selfie with them.
Walk down the Lane: No trip is complete without a friendly interaction with the locals. Near the Creek is Dhow Wharfage, and the walk down this lane can be one of the most interesting decisions of your trip. The area is filling dock for sailors who would be more than happy to let you sneap peek in their life. If you are lucky, you can even enter their dhows.
Shop spices: It is a thing of the past when you could smell and tell what was cooking for dinner. The Shop spices will take you back in time as your senses would be treated with the aroma of some exotic herbs and spices. You can even buy some to take back home to revisit the aroma.
Gold Shops: Dubai is famous for being ultra-rich, and Dubai Creek gives you the opportunity to visit Gold Shops. These shops are known to have one of the most extensive and beautiful collections of gold. There is no price for trying the jewelry, and if something hits your heart, don't forget to bargain.
Street shows: There quite a few street shows that you can witness. These live shows involve plays, music, and fireworks. Some of the popular shows take place on The Al Seef, Al Muraqabat, and Al Rigga streets
Night Life: The Dubai Creek area has its own fair share of high-end disco bars, cafes, restaurants, discotheques, etc. There are plenty of entertainment venues that won't lead to a boring night ever.
Enjoying Sunset: Sunset is such an under-appreciated event. The right place with the right person can make you remember a sunset for life. At Dubai Creek, you can enjoy the view either on the boat or at a restaurant eating with your special one.
Where can you stay Nnar the Dubai Creek?
The area is saturated with opulent, mid-range, and budget hotels and hostels. You can easily find a room in budget hotels like Desert Palm, Citymax Al Barsha, Jonrad, or Ibis. And you visit the creek via the metro from any part of Dubai.
Conclusion:
The Dubai Creek is a scintillating place, especially at night, when lights lit up the waterfront. With shining floating vessel on dark water, turns the landscape into something out of a book. All of which makes Dubai Creek, once in a lifetime experience.
Dubai is one of the few cities in the Middle East that are very open to welcoming tourists. Dubai takes pride in its good enforcement of law and order all throughout the city. Visitors will feel safe and secure while exploring the area at any given time of day. 
Below are 5 reasons why Dubai is popular with Tourists
1) For Relaxation
2) Best Tourist destination
3) For Food
4) Amazing Entertainment and Adventure
5) World's Best Shopping destination and Gold Market
1) For Relaxation
The city boasts of its location and climate is perfect for different outdoor activities such as golf, dune driving, and windsurfing.  Enjoy playing your favorite sport or treating yourself to your preferred recreational activity while in Dubai. Alternatively, there are also lots of indoor facilities that promote relaxation such as spas and other wellness centers.
Kite Beach
Sunset Beach
Jumeirah Open Beach
Al Mamzar Beach
JBR Beach
2) Best Tourist Destination
The beauty of Dubai knows no bounds. With its strength rooting from ambitious leadership and innovative minds, Dubai has countlessly proved to the world that there is truth in Sheikh Mohammed's statement: "In Dubai, we don't wait for things to happen. We make them happen."

Experience the old

Dubai has a rich history that will give any visitor a feel of the traditional Arabic culture. A popular historic attraction is the Dubai Museum. Located inside Al Fahidi Fort, one of Dubai's oldest structures, the museum is home to important artifacts and inspiring stories that make up the city's modest roots.

Experience the new

People when asked about any landmark in Dubai then they will probably give a resounding 'Burj Khalifa.' Offering a view of the city like no other, the tallest building in the world gives visitors a glimpse of how much the city has changed in the past years.
3) For Food
Dubai is prominently named as a blend of societies. At the point when individuals of various nationalities come and dwell in the city, they have not just their gear close by; they additionally acquire their nourishment, among other social jewels. Guests and local people the same are ruined with a variety of cooking styles that oblige any taste bud.

Due to the tremendous history of exchange Dubai, the flavor unmistakable to the city is generally impacted by the nations who effectively acquired and rehearsed business in the city. A few flavors that overwhelm any customary Emirati menu incorporate cardamom, saffron, cinnamon, and turmeric.
4) Amazing Entertainment and Adventure
Go skydiving with Skydive Dubai
Ride a hot air balloon with the Balloon Adventures Emirates
Experience the world-renowned Dubai Desert Safari
Explore water wonders at the Dubai Aquarium and Underwater Zoo
Go skiing at Ski Dubai
5) World's Best Shopping Destination and Gold Market
Dubai Shopping Festival, GITEX, tax-free:- Being tax-free definitely, has its rewards. Dubai offers a shopping experience like no other. From global brands to unique finds, the city's shopping scene is one good reason enough to visit this glamorous side of the world.




Shop in the old: – Souks, which signifies 'showcase' in Arabic, flourish in the territory. There are devoted souks for material, for textures, for flavors, and for gold, among others. Two of the most celebrated souks are the Spice Souk and the Gold Souk. The Spice Souk offers a wide range of herbs and flavors while the Gold Souk gives great arrangements on its fine-created gems.
Shop in the new:- For a cutting edge shopping experience, Dubai sure has a ton to offer. The city is the place you will discover Dubai Mall, the biggest shopping center on the planet. Aside from shops and eateries, the Dubai Mall houses a transcending aquarium, a tremendous ice arena, and an indoor beguilement focus. It likewise includes the Dubai Fountain wherein shows are being played by plan. The wellspring highlights world-class light and sound synchronization which, they state, can be seen from the moon.