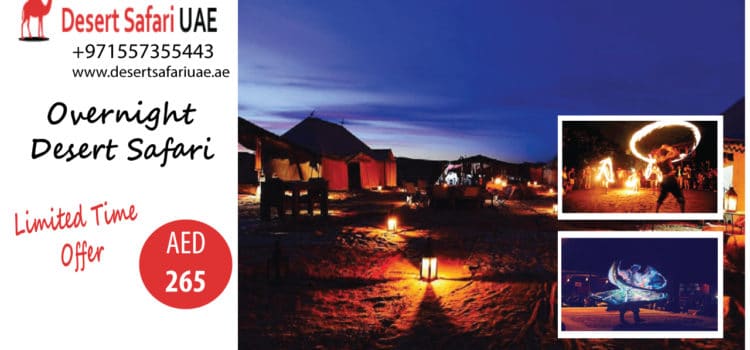 Do you wish to go on a holiday that brings your inner adventure enthusiast out? Dubai is the perfect holiday destination for thrill-seekers like you. You can be boundless in the dunes while sitting in a 4×4 vehicle and bashing the dunes, you will feel like on cloud nine. Enjoy each and every essence of Overnight Desert Safari in Dubai by taking the full package of this expedition. Going for the Safari during the evening will kick off your whole journey and you will be in love with the place for sure. After all, Dubai has so much to offer its visitors and never let any of them down. You will be automatically filled with pleasure while finding yourself in the middles of the dunes with an orangish-red tone of sand.
Click as many pictures as you want, as who knows when can you be with the awesome backdrop of this Arabian desert. Cheers, you will be receiving from your surroundings will add charm to your face and will make you happy from your soul. If you know, how travelers consider travel as their food for their inner self, this is how you are going to feel in Dubai. If you wish to make the most of an Overnight Desert Safari in Dubai, you should wait for the next things. That complete night will be fun and young as you can then go for Bedouin Camping under the naked sky. There you will start with the real-fun that is out of this whole world and offered nowhere other than the exotic Dubai.
Feel the Night with Exclusive Fun Activities
Once you will reach your destination of Bedouin camp, you can unleash various surprises awaiting you. Simply, feel like a local and ride a camel to go there, first of all. You will be in love with the Henna designs Arab people offer. You must have heard about the Arabian designer Henna, so how about getting it from its place of origin? We sure you will be keen to get your hands covered with amazing and exclusive Henna. Or even you can go for fun tattoos if don't want to be in the hassle of letting the Henna get dry. Another specialty of this camp is the flavorful Sheesha, as you can smoke like Arabian people and feel the richness of the locals. You will surely notice everything is royal and rich about them as they are known worldwide for this reason only. There is a full arrangement of entertainment as Belly dancing performances would be too amazing to handle.
Dive into the Delicacy of Lavish Buffet Dinner
The core benefit of opting for Overnight Desert Safari in Dubai would be to get a chance to enjoy an exclusive buffet of Arabian flavors. While having amazing Vegetarian and non-vegetarian food in the beautiful camp, you can watch various shows like Belly dancing and Tanoura show for your entertainment. This delightful dinner will surely last and will keep on giving you reminders when you will come back from there. These experiences are meant for all the age groups, so going with family as well as children are totally fine. Another thing that will catch your sight will be- Falconry as it is one of the traditions of falcon hunting in Dubai. Also, if you love pictures, then wear their costumes to look like them and get yourself clicked properly.
So, what else are you waiting for, you should book your tickets tomorrow for such a dreamy trip. That too with the amazing assistance of professionals like Desert Safari Company in UAE. As with them, from pick up to drop, itinerary planning, and sightseeing, every activity is taken care of. You just have to board in and enjoy the excursion. All the best!
Dubai is famous for its amazing desert which has to offer plenty of things for its visitors. The Dubai Desert is one of the best entertainments for the people in Dubai. It is not only a single activity but it comprises of plenty of activities within us that gives adrenaline-pumping adventure to the people visiting Dubai.
THINGS TO DO IN DESERT SAFARI DUBAI:
This Desert is not an ordinary desert. It has plenty of activities on it for people to enjoy. People all ages can visit this place and have the best time of their life. Desert Safari being one of the major activity in Dubai gains a lot of tourist attraction in Dubai. You can do the following activities in the Desert depending upon the packages you choose:
QUAD BIKING:
Have you seen a bike more amazing than Quad bike? All of the adventure lovers out there would love a ride on this amazing bike which gives you the thrills you desire. This bike is specially made for surfing around the desert. For protection, you would be given a helmet along with it. You can ride around the desert on this bike and even watch the sunset. It is loved most by adventure lovers.
SAND DUNE BASHING:
People enjoy bashing the sand dunes in Desert Safari. We help you to enjoy your day in the desert by doing sand dune bashing. This activity normally takes place through an SUV, that takes you across the desert moving in high speed through the different direction. People who love thrills would definitely want to try this activity in the desert. This activity is normally done through an SUV but some tourism companies like Desert safari UAE can allow you to travel in Hummer too if you choose the Hummer Desert Safari package.
SAND BOARDING:
Have you seen people surfing on waves? Sandboarding is same but it contains sand waves instead of water waves. Not everybody can do it. Only the people with proper expertise are allowed to do it.
CAMEL RIDE:
Talking about the desert and not mentioning the ship of the desert is unfair. In Desert Safari Dubai, you can also make use of the camels. You will be shown around the desert on the backs of this amazing animal of the sea. People of all ages especially kids love to ride on the back of the camel on the desert.
BELLY DANCING/FIRE-SHOW:
After a long day in the desert, you are taken back to the tent where you enjoy amazing activities like the belly dance show and fire show. You are also served the delicious buffet there having the best dishes of all time. Apart from this, you can also apply henna by the henna artists, try on Arabic clothes and get yourself photographed. The camp activities of the desert are no less than other activities. So make proper use of it.
If you are looking for spending a good time in the desert then feel free to book your package with Desert safari UAE right away by visiting: