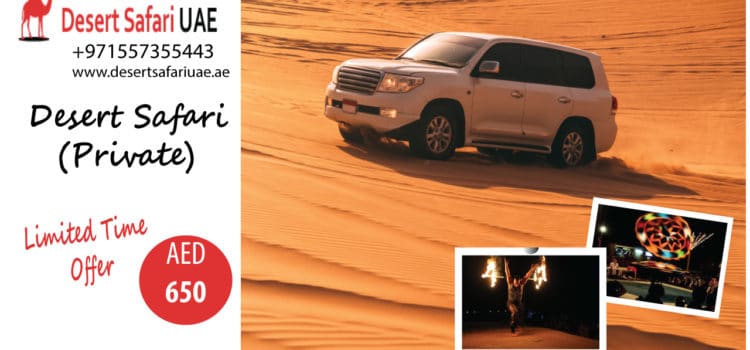 Dubai is a city of wonders and Dubai desert safari is surely one of them. It has got very interesting deals and they are divided into different timings of the day. These include Morning Safari, Evening Safari, and overnight safari.
Perception About Morning:
How do you define a beautiful morning? Blue sky, chirping of birds, sunrise, sunshine, a morning walk, a pleasant environment, a refreshing, pleasant time of the day, wind, the smell of the flowers.
Why Should One POrefer desert?
We prefer going to the beach and parks in the morning and who will ever think of going to a desert. Morning is an important part of the day and nobody would want to ruin it but going to a desert will make your day.
Do You Love Adventures?
If you are on a trip and you feel lazy and you are fond of adventures, then going to a desert is only what you want. I am talking about the most famous, beautiful, full of adventure, entertaining and amazing desert called Dubai desert safari.
What Is The Hype All About?
The activities at Dubai desert safari in the morning are so ravishing and you will love them. If you are a sporty person then you won't stop yourself from visiting Dubai desert safari. The activities that are part of morning safari are sunrise, Sand dune bashing, quad biking, and camel riding.
Watch The Sunrise:
We all have watched the sunrise at a beach or lake but have you ever witness the sunrise in the desert? If not then what are you waiting for? Come to Dubai desert safari and watch the sunrise. The most beautiful view. The way sunlight spreads all over the sky and how darkness changes into light. It sounds so amazing.
Are You Crazy About Bikes?
You might have experienced a two-wheeled bike but have you ever tried a four-wheeled bike? And that too at a desert? Trust me, it is so adventurous. If you don't know how to ride then we have proper well-trained staff. They will guide you at every step and if you're daring enough then don't miss this. Dubai desert safari provides all the facilities so don't be afraid and prepare yourself for the most thrilling experience of your life.
Sliding Over The Dunes:
We all have heard of surfing on ice but have you heard of surfing over Sand dunes? Come to Dubai desert safari and try Sand skiing or sandboarding. Dash over the dunes and you will never forget this.
Camel Riding:
Camels are an aesthetic at the desert. They are an important part of the desert and they add beauty to the desert. Camel riding at a desert is really fun because the camel is an animal that belongs to the desert and it would be so much fun exploring the desert on a camel. If you want to be a part of this then Dubai desert safari will never disappoint you. Book your deal
A roller coaster ride:
Dubai desert safari offers dune bashing. I swear it is the most insane ride. But it is a must-try and Dubai desert safari is incomplete without dune bashing.
Start packing your bags and prepare yourself for this amazing trip.